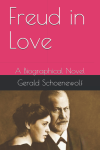 Freud in Love
A Biographical Novel
From the author of FREUD IN LOVE:
FREUD IN LOVE began as a stage play, then was converted into a screenplay, and finally years later was expanded into a novel.

In writing FREUD IN LOVE I attempted to capture Vienna and the psychoanalytic world in the early 19th Century and to portray the somewhat sedate era in which Sigmund Freud made his great discoveries, such as the unconscious, and in which he met the love of his life, Lou Andreas-Salome, and then vied with his young protege, Victor Tausk, for her love.
I wanted to show Freud in a more personal way than has ever been done before, a sensitive, vulnerable man who nevertheless was also one of the wisest men who ever lived. And I wanted to portray the rise of psychoanalysis and the conflicts and intrigues it wrought.
My goal was to write not just a historical novel but a literary one as well--one that would be of interest to psychologists and lay people.

About the Author
Gerald Schoenewolf, Ph.D. has lived two lives. The first life was an angry and unsuccessful attempt to find love and balance in the midst of chaos. In the second, he became a licensed psychoanalyst in New York, where he has had an office for over 45 years. He has also been an adjunct assistant professor at the Borough of Manhattan Community College for seventeen years. He authored fourteen books on psychoanalysis, psychology, and philosophy; wrote and published five novels; wrote and illustrated a book of poetry; translated and illustrated a book of Daoist philosophy; and produced, wrote, and directed two feature-length movies and a volume of video song poems. He currently lives in the Pocono Mountains of Pennsylvania. with his wife, Julia.

A fascinating story

"This was a very engaging book and one that clearly was written from a much more expert point of view than someone who was simply regurgitating a biography. The characters were a highlight of the book. They each had their own separate desires, flaws, speech patterns, etc. which of course was the backbone of this story. When reading a biographical piece, it's easy to feel bored on account of knowing the story, but this book made me feel that I was reading about a whole new cast of characters. The dialogue was a crowning point of this book. This subject matter can, at times, fall at the risk of seeming pretentious or too literary for everyday speech, but the conduct with which the characters consistently lived, as well the moments of immaturity apparent in nearly all the characters, allowed for the dialogue to come off as human and relatable. "Siggie" Freud served as the figure who tied everyone together, both in the psychoanalysis world and within his own personal relationships. It was clear that he had a lot of wisdom, and overall many great qualities in him that were extolled in this book, but within him there also lay a quite controlling and possessive demeanor, especially over his ideas and intellectual property. He was amazingly written, I loved him. This was a book that I would certainly recommend and I hope that many people get to read this - it's just such a fascinating story!"

--Isabel Pettibone, Editor, Fiverr
Buy it on Amazon. Softcover, $14.95. Kindle Edition, $3.95
© Copyright Living Center Press